Homewood offers a huge selection of Simpson Strong-Tie fasteners, and an expert team that can help you locate those hard to find items. Come in today to see our full line of Simpson Anchoring & Fastening Systems for Concrete and Masonry, Wood Construction Connectors and more.
To view Simpson Strong-Tie's full product line, click here.
THE SPAX® ADVANTAGE
Why settle for ordinary commodity screws that break or strip out, and are made for only specific or very limited applications? SPAX® Multi-purpose Construction Screws and PowerLags® are engineered with "better" in mind. Their patented thread technology provides unmatched versatility, drive performance, and requires no pre-drilling – so you can get professional results faster, easier, and more efficiently than ever. Whether you're a professional contractor or weekend do-it-yourselfer, SPAX® offers a wide selection of premium-quality, competitively-priced fastening solutions for reliable connections in interior and exterior projects. Better performance; better value!
ENGINEERED TO BE BETTER
Often imitated, but never duplicated, SPAX® Construction Screws and PowerLags® are proudly manufactured, tested, and packaged in the USA!
To view SPAX's full product line, click here.
While the fastener industry has changed considerably over the years, Grattan's commitment and dedication to their customers and efficient methods of operation has remained as strong as ever.
To view Grattan's full product line, click here.
Fastap™ products, with their exclusive Power Point Technology™ , will save you time, give you better fit and finish and outstanding self-countersinking draw down for tight, secure assembly. But that's not all. Power Point Technology Power Point Technology™ also allows to you to attach closer to the edge without splitting because each screw drills a properly sized pilot hole as you install the screw. In woods seasoned rock hard by years of use, like you find in the average home remodel, Power Point Technology™ shows its efficiency by making those types of installations a breeze. Power Point Technology™ also makes tight, secure fastening in restrictive spots (beneath flooring, wall cavities, etc.), where you could never swing a hammer, quick and practical.
To view Fastap's full product line, click here.

Professionals prefer Grip-Rite® fasteners when they need to get a job done right. Designed and manufactured for use in exterior construction projects where extra protection from the elements is needed, nothing protects better than the Grip-Rite PrimeGuard® family of products. Choose from PrimeGuard Ten, PrimeGuard Plus® and PrimeGuard Max®, featuring the best-in-class warranties for protection against exterior corrosion, ranging from 10 years to a limited lifetime warranty. With the variety of Grip-Rite PrimeGuard family's patented polymer coating, 1000+ salt spray resistance, and 100% stainless steel products, you can trust your job will be done right with Grip-Rite.
To view Grip-Rite's full product line, click here.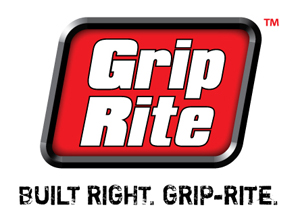 GRK offers a complete line of fasteners for many different applications and a vast size range. All of GRK's products are unique, featuring at least one patent. GRK always aims to improve its existing fasteners and to develop new and exciting products for professionals and handymen everywhere. GRK is a company built on innovation and quality and will continue to be guided by its commitment to invention and setting ever greater standards.
To view GRK's full product line, click here.