Having the right tools is the key to any successful project. If you are a builder or a do-it-yourself individual, you know having quality tools and supplies is a must in effectively completely your job.
Homewood is committed to providing you with all the tools and hardware needed for your building projects. We strive to stock our building supply store with customer requested items giving you the convenience of a local resource for high quality tools and other building needs.
Everything from drill bits, hammers, gloves, vise grips, and measuring tapes to painting and decking supplies, levels, glues, and insulation, Homewood's building supply store is here to serve you. Come explore our constantly expanding inventory and our friendly building supply specialists can help you with any questions you may have.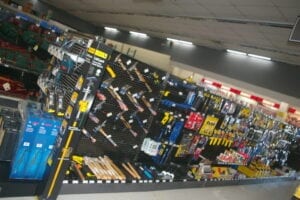 HAND TOOLS, LEVELS & LADDERS
Marshalltown Company is more than a manufacturer of premium quality trowels. They are committed to leading the construction tool industry and providing the best products for the contractor to complete every job with the best results possible. Marshalltown offers high quality concrete, masonry, drywall, plaster, paint, EIFS, flooring and tiling tools and equipment.
To view Marshalltown's full product line, click here.
First, the pronunciation. It's "Duh-LOO-gee." And if it sounds different, that's because it is different. In fact, for dead-center accuracy and pure striking power, Dalluge decking and framing hammers are in a class by themselves. Designed by a professional carpenter for professional carpenters, Dalluge hits the word "balance" right on the nose, with head-to-handle weight ratio so precise, you'll swear you're swinging a much lighter hammer. The result is surer, deeper, more powerful nail driving, with less strain on the arm and shoulder. Dalluge. Ok, so it's a little tough to pronounce. But it's one tough hammer.
To view Dalluge's full product line, click here.
Since 1849, Stiletto Tool Company has been providing professionals with the highest standard in premium titanium hand tools. They set the standard with their line of premium titanium hand tools that span numerous trades such as framing, remodeling, finish work, siding, demolition, concrete, and drywall. These include hammers, nail pullers, utility/pry bars and grips. Many people wonder why they should pay a premium for titanium hand tools. The answer is simple: 45% less weight while providing the same striking force and strength as steel. Titanium tools also produce 10 times less recoil shock. These features help reduce carpal tunnel syndrome and tennis elbow which means less down time, more productivity, and most importantly LESS PAIN while working.
To view Stiletto's full product line, click here.
Since 1869, the Vaughan family has been committed to producing hand tools that proudly state "Made in the USA," providing American made products, comprised of American raw materials. Vaughan products are produced with the highest standards, in compliance with Government mandates. Preservation and protection of the environment is just as important as preserving the origin and root of our foundation.
To view Vaughan's full product line, click here.
Stanley Tools consistently delivers new, stronger and more innovative products to help you build, repair and protect our world. Stanley is proud of its reputation for excellence. They are dedicated to continually testing, designing and improving their products to ensure quality and maximum function. Stanley Tools offers the broadest range of carpentry hand tools, laser measuring tools, automotive tools, pneumatic tools, tool sets and tool boxes for construction professionals, mechanics, and home improvement enthusiasts.
To view Stanley's full product line, click here.
Empire Level is the home of True Blue® – the most accurate vials in the world. Empire Level is the leading designer and manufacturer of levels, squares, layout tools and caution tape in the United States with dominant market share in the retail, contractor and "Do-It-Yourself" markets. As the inventor of the modern level, Henry Ziemann, the founder of Empire Level, started a revolution in the industry. In its first three years, Empire created the adjustable level with interchangeable and replaceable vials. They followed this first success with a series of innovations: the torpedo level, the mono vial, the magnetic level and the first extruded aluminum rafter square. The company also introduced top read levels, Monster vials, interlocking T-Squares and invented the snap-in vial. They currently hold more than thirty active patents, including True Blue® vials with guaranteed accuracy.
To view Empire's full product line, click here.
With more than 70 years of developing solutions to help professional tradesmen do their work more accurately, more quickly and more reliably, Johnson brand products are most trusted by professionals worldwide. Over the years, we have built a comprehensive portfolio of leveling, marking and layout tools, which includes construction grade lasers, levels and squares.
In addition, Johnson is positioned to offer a broad spectrum of laser distance measures, measuring wheels, digital measuring tools, and digital levels and protractors. Like every product we supply, Johnson brand products are designed to offer a high quality tool that represents the highest value product available anywhere. Johnson has a reputation for exceptional service, education and everyday dependability to exceed expectations for quality and service.
To view Johnson Level's full product line, click here.
For more than a century and a half, STABILA has produced innovative, precision-made tools in the time-honored tradition of German craftsmanship. Measuring and layout is high risk; Stabila produces accurate and durable tools that meet that demand. Stabila measuring tools perform better than advertised and eliminate rework and call backs, speed production and improve profits.
Their designers and engineers examine jobsite applications and manufacturing processes; they interview and work directly with the most demanding craftsmen to make their tools more accurate, dependable and easy to use. From the company's first invention, the folding rule to the latest technology, Stabila has become synonymous for precision, speed and reliability.
To view Stabila's full product line, click here.
Werner Co. is the world leader in the manufacturing and distribution of ladders, climbing equipment and ladder accessories. Backed by over 60 years of product innovation, Werner products are recognized for their durability, quality and safety. All Werner ladders and climbing equipment meet or exceed applicable Occupational Safety and Health Administration (OSHA) and American National Standards Institute (ANSI) codes and standards for strength and structural integrity.
To view Werner's full product line, click here
The bright CHANNELLOCK BLUE® Gripped tools are standard equipment in the tool belts, buckets and tool boxes of professional electricians, plumbers and mechanics all over the world. This is quality they know they can count on because any tool with CHANNELLOCK® on it is made to the highest standards in Meadville, Pennsylvania since 1886.
CHANNELLOCK® uses high carbon steel for superior performance on the job. The right angle, laser heat-treated teeth on our Tongue and Groove pliers grip better, and last longer. The Laser heat-treated cutting edges last longer. CHANNELLOCK BLUE® grips are designed for durability and comfort on the job. Only CHANNELLOCK uses a knife and anvil style cutting edge to ensure perfect mating and superior cutting edge life on our cutting pliers.
To view Channellock's full product line, click here.
Occidental Leather is dedicated to superior solutions through quality tool bag designs and are the established leaders in providing functional tool bags and pouches that complement the modern tradesman. Compare any other tool belt, tool vest, or tool bag to an Occidental system. Instantly, you'll see and feel the difference. They use only the best materials available combined with 30 years of field tested tool bags. You can be assured that you're purchasing the most unique and hardest working tool belt system in the world.
Since 1980, Occidental has set the quality standard in the tool belt industry - and has earned the reputation of having no equal. Occidental tool belts, bags, and pouches are sold only through quality building suppliers and hardware retailers. All their tool bags, pouches and tool belts are designed and manufactured in Sonoma County, California, USA.
To view Occidental Leather's full product line, click here.
CLC has a pretty simple philosophy, make the best work gear they can and keep the price reasonable. Nothing fancy, nothing for "show"...it's all about putting their brain power to work to make the best products they can make and give you the best value they can. That's how CLC got to be #1…thinking outside the toolbox™.
They've been at this for a while, so they know what works and what doesn't. When they are building product, they look at every detail, the material, the pattern, the backing, stitching, reinforcing, binding, how the fabric lays. So, the next time you're buying work gear, think about the company that's thinking about you. We really just want to make the best product we can for you, functional, durable, stylish…no gimmicks. If it doesn't add value, we don't add it. Great products, great value...that's our thinking.
To view CLC's full product line, click here.